Milgard Pultrusion plant earns coveted VPP Star from OSHA
Five stars.
It's a symbol of excellence around the world. And now, it perfectly encapsulates MITER Brands' commitment to workplace safety.
Our Milgard Pultrusion plant in Fife, Wash., earned the Voluntary Protection Program (VPP) Star on Wednesday, May 3rd, following a three-day audit by a Washington Division of Occupational Safety and Health (WADOSH) team. Milgard Pultrusion becomes the fifth MITER Brands facility to garner the VPP Star and first legacy Milgard location to do so.
Founded in 1982, the Voluntary Protection Program was created to honor companies that go above and beyond to ensure workplace safety. VPP Star is the highest level of recognition within the program, with VPP Merit being a secondary distinction; fewer than half of one percent of all workplace locations in the country have the VPP Star.
"We've spent years getting to this point," Milgard Pultrusion Plant Manager Marc Wendfeldt said. "This is a journey. And even for us, we're still on that journey. There's so much more we can do."
The WADOSH team was impressed with the Pultrusion team members' attentiveness from the beginning. During the opening session on Day 2, WADOSH Industrial Hygienist and VPP co-coordinator Nicholas Hall commended the Pultrusion team for quickly addressing the issues that arose on Day 1.
"This is really impressive," Hall said. "This is the definition of going the extra mile."
By earning the VPP Star, Milgard Pultrusion follows in the footsteps of our Prescott Valley (Ariz.), Gratz (Pa.), Profiles (Pa.), and Hegins (Pa.) facilities. MITER Brands officials are hoping to eventually fly the VPP Star over every location; the Flower Mound plant in Texas is scheduled to go through a VPP audit by the end of 2023.
As a plant manager at a VPP Star site, Wendfeldt will be available to help Flower Mound officials prepare for their evaluation. Until then, he's going to enjoy Milgard Pultrusion's accomplishment.
"I'm going to celebrate with the team," Wendfeldt said. "We're going to have a barbecue, we're going to raise the flag, and we'll give out some swag. We'll make a big deal out of it. I want to celebrate with this team because they deserve it."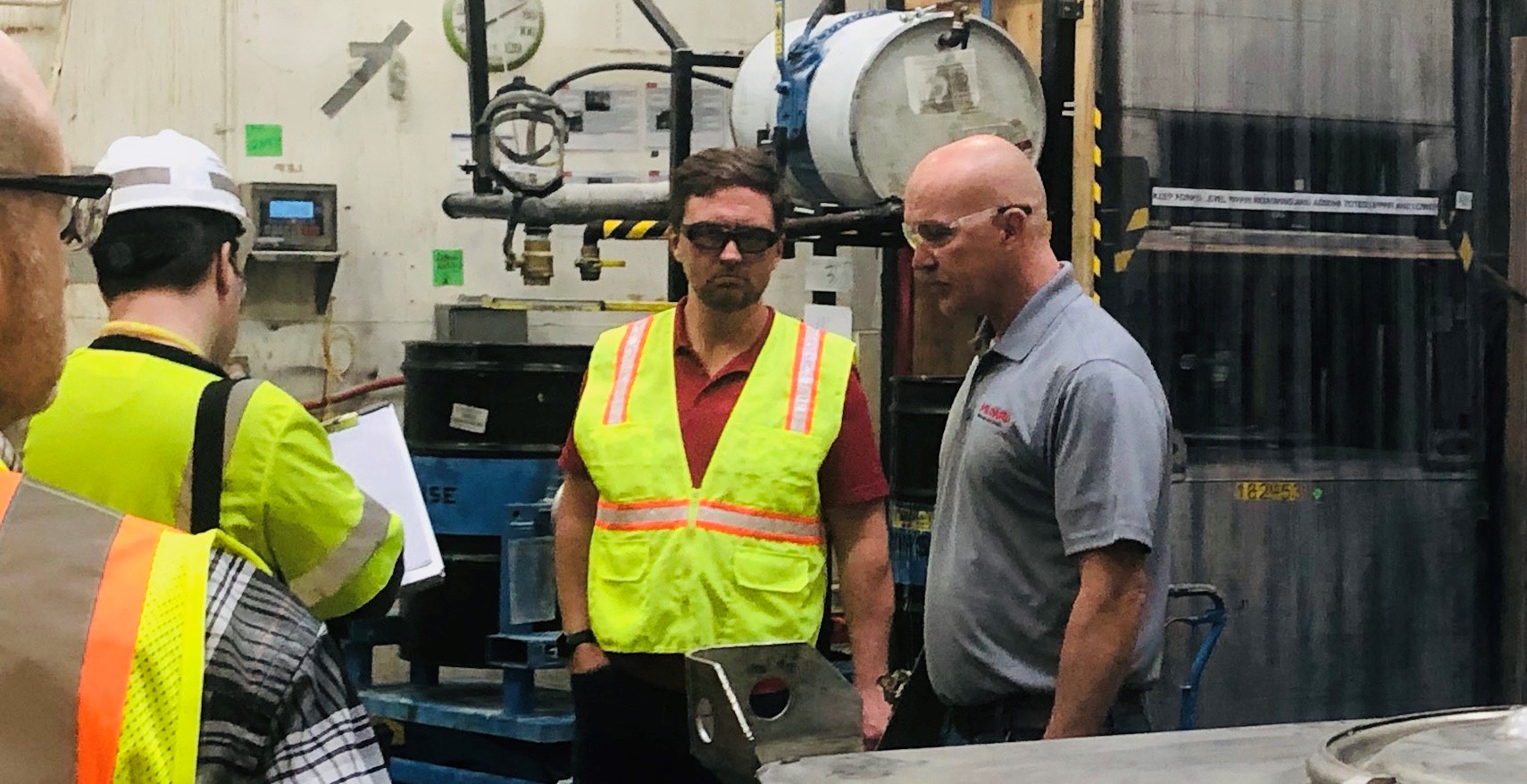 WADOSH Co-Coordinator Nicholas Hall discusses safety with Milgard Pultrusion Supervisor Brad Hendrik during Day 1 of the WADOSH audit.