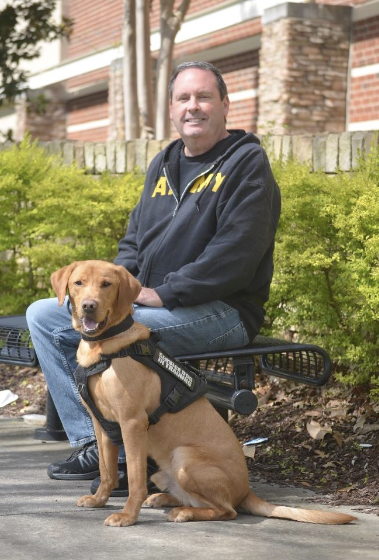 From Battlefields to Best Friends: MITER Foundation's Support for American Humane's Pups4Patriots
The MITER Foundation, in its unwavering commitment to supporting our veterans, has taken a significant step forward by contributing to American Humane's efforts to nurture the human-animal bond. This past year, our foundation's support has been instrumental in enabling American Humane to enhance and grow their service dog program, extending a helping paw to those who might benefit most, including our nation's first-responders and veterans.
Our funding has facilitated the expansion of the Pups4Patriots program to reach and assist first-responders since July 2022, and we are proud to report the successful graduation of the program's very first participant with their new service dog. As we recognize the potential post-traumatic stress that our brave firefighters, police officers, and other emergency personnel may face, it is our honor to back a program that serves those who protect us every day.
Further to our commitment, The MITER Foundation is delighted to have contributed to the success story of John, a U.S. Army veteran and former Tank Crewman, who served with distinction from 1985 to 1989 across various European locales. With the support of American Humane, we have witnessed the heartwarming pairing of John with his male Labrador Retriever, Savior. John's journey—from the initial engagement with American Humane to the culminating 10-day training and finally, bringing Savior home—embodies the profound impact that service dogs can have on veterans' lives.
John's testimony is a powerful reminder of the invisible battles our veterans face upon returning home. Savior, true to his name, has been more than a service dog; he has been a lifeline for John, exemplifying the best of what service dogs offer: companionship, unwavering support, and a reason to look forward to a brighter future. John's expression of gratitude underscores the transformational change we aim to support through our contributions.
At The MITER Foundation, we are humbled and grateful for the opportunity to aid American Humane in their laudable mission. Our ongoing support reflects our deep respect for those who have served our country and our belief in the healing power of the human-animal bond. We are committed to continuing our support for American Humane, ensuring that more veterans like John can experience the life-changing companionship of a service dog.
Contact Info
Gwen Mallon
Executive Assistant and MITER Foundation Specialist